LOS PASEOS AQUATIC CLUB
A summer swim team for kids ages 5-18 in San Jose, California
---
LATEST NEWS
Dear Penguins and Parents:
Swim season is almost here! Just a few quick notes and reminders:
If you have any friends or neighbors interested in joining LPAC, have them come to Walk-In Registration this Saturday (4/22) from 8:30 to 9:15 am. Forms and additional information are located on the website: http://swimlpac.org/team-info/joining-lpac/
The orientation meeting for new families will be on Thursday, April 27 at 7:30 pm. Returning families are not required to attend, but you can come by the clubhouse to catch up with swim team friends, pick up handouts, and sign up for volunteer shifts.
Practices start on Monday, May 1, with age group times as follows:

New swimmers only: 5:00-5:30 pm
8 & under: 5:30-6:15 pm
9-11: 6:15-7:00 pm
12-14: 7:00-8:00 pm
High school: 8:00-9:00 pm

Any siblings who are trying out for the team this year should plan come to the new swimmer practices every day that first week from 5:00 to 5:30 pm.
If you are planning to go on the Raft Trip on July 1, you might want to book your hotel rooms now, as spaces are filling up fast. Mention "Los Paseos Swim Team" to get discounted group rates at the hotels listed below:

Motel 6 (209-847-8181)  Group rate: per night:  $109 1 king,  $119 2 queens

Holiday Inn

 (209-847-9121)  Call Karen Monday, Tuesday, or Thursday after 4 pm or Saturday before 11 am Group rate: $178 1 bed, $188 2 bed. Only 10 rooms are available as of 4/17.
We look forward to seeing you all very soon!
PENGUINS WANTED!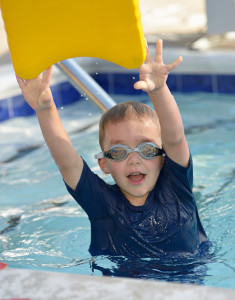 If you live in the Los Paseos neighborhood and love to swim, we would love to have you on our team! Click on the button below for more information about joining LPAC.
---
UPCOMING EVENTS
Friday, April 1: Registration forms for returning members due
Saturday, April 22: Walk-In Registration for new families
Thursday, April 27: New parent orientation meeting (7:30 pm)
See full LPAC 2017 calendar