VOLUNTEERING
It takes a village to run a swim team, and volunteering is an important part of the Los Paseos Aquatic Club!
Each LPAC family must provide at least one adult volunteer to work at least one shift at each meet (home or away) when their child is swimming. Occasionally families will need to volunteer for additional shifts at meets. We also need parent volunteers to help at the many fun team events throughout the season.
Sign-up sheets are generally posted several weeks before a meet, so it's best to sign up early for the shift and job you want.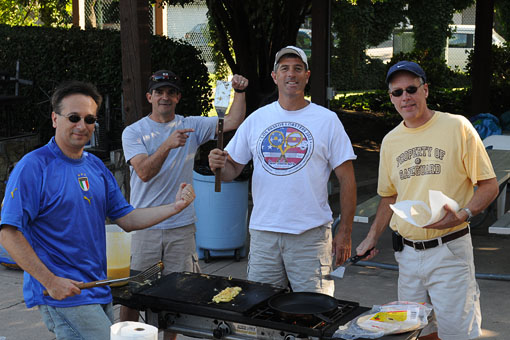 Volunteer Jobs
There are a variety of volunteer jobs available. If you are new to the swim team, we suggest you try out several different jobs to see which ones work best for you and your family. Jobs include:
Timer: Each lane has three timers who use stopwatches to record the swimmer's time in a race.
Recorder: Each lane has one recorder, who writes down all three times for each event.
Runner: The runner goes between the pool deck and computer table to deliver and collect heat sheets, lane sheets, DQ slips, and ribbon labels. The runner also posts race results. You don't actually have to run, but this is a busy and important job!
Sorter: This person circles the middle time for each swimmer to be entered into the computer and matches DQ slips to the lane sheets.
Clerk of the Course: Several parent volunteers (including the head "Clerk") help organize swimmers into heats and lanes and escort them to the blocks.
Hospitality: The hospitality volunteer brings water and snacks to coaches, judges, and volunteers.
Ribbons: One parent volunteer from each team places labels on ribbons and sorts ribbons into family files.
Snack Bar: It takes a lot of parent volunteers to run our awesome snack shack. Shoppers pick up needed supplies one or two nights before the meet. We also need choppers to prepare food the night before, as well as setup, cooks, servers, and cleanup crew for every home meet.
Event Board: The Event Board monitor posts the event and heat numbers so spectators know what race they're watching.
Announcer: Using the PA system, the announcer notifies swimmers when they need to report to Clerk of the Course and makes other general announcements.
Marshal: The marshal keeps pathways clear, ensures equipment is not tampered with, and keeps people out of the pools.
Restroom Maintenance: This job requires that you periodically check the restroom (either men's or women's) to be sure it is clean and stocked with supplies.
Trash Patrol: This job requires that you periodically empty out trash cans from snack bar and pool areas.
Setup: The setup crew arrives early in the morning to help set up the pool before a home meet.
Cleanup: The cleanup crew stays to help clean up the pool area after a home meet.
There are also other jobs that require more training and long-term commitment. Please talk to the Volunteer Coordinator if you are interested in learning more about these positions:
Stroke and Turn Judge: Judges watch for stroke infractions during meets and fill out DQ slips.
Starter: The starter announces the start of each race, runs the electronic start system, and watches for false starts. The starter helps to control the overall pace of the meet.
Computer Entry: Typically, we have three people working throughout the meet to enter times into the computer and print out reports and labels.
Head Timer: The head timer coordinates timers and recorders in all lanes. During events, the head timer serves as "backup" timer if another timer misses the start of the race.
Please note that per our bylaws, families who do not fulfill their parent support obligations will not be in good standing with the club, and their swimmers will not be allowed to return to the team the next year. In addition, a monetary fee may be assessed to compensate for the lack of team support and participation.
Families who have a hardship working the meet(s) need to contact the LPAC Volunteer Coordinator to arrange an alternate support schedule.