VISITING TEAM INFORMATION
We look forward to hosting you at Los Paseos Aquatic Club, home of the Penguins!
Our pool is five lanes wide, but because of the diving board, we can only swim four lanes at meets. This does make meets take a little longer, but time goes by fast when you're having fun, right?
You'll find ample parking around the neighborhood or at the church next door; just please be respectful of any church members who may be there for a Saturday morning event. There is plenty of room to spread out and set up EZ-Ups on our spacious lawns. And the LPAC snack bar is legendary throughout the league for great breakfast burritos and tri-tip sandwiches!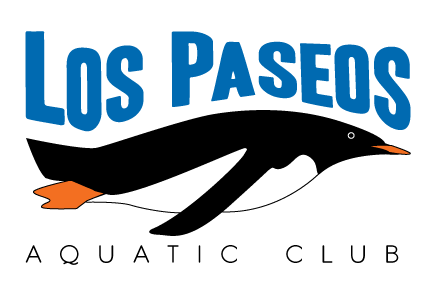 General Information
Visiting Team Check-In: 6:45 am
Visiting Team Warm-Ups: 7:15 – 7:35 am
Timers and Recorders report at 7:40 am for training
Meet starts around 8:00 am
Meet finishes around 1:30 pm
Location
Los Paseos Pool
7047 Via Ramada
San Jose, CA  95139
Visiting Team Volunteer Requirements
Los Paseos runs 4 lanes.
For each shift, please provide the following:
Clerk of the Course
1 Timer and 1 Recorder for each of 4 lanes
1 Runner
1 Sorter
2 Ribbons
2 Stroke & Turn Judges