RAFT TRIP
This wet and wild LPAC family event takes place every year on the Saturday of the Fourth of July holiday "bye" weekend. We reserve rafts for what is usually a slow, gentle ride down the scenic Stanislaus River. Small rapids add to the excitement, but are tame enough for first-time rafters. Penguins and parents are welcome to join in the fun!
Part of the LPAC tradition includes attacking other boats with water guns and buckets to see who is truly "King of the River." If you prefer a less intense experience, you can designate your raft as a "dry boat."
Many families choose to spend the night in Oakdale either Friday or Saturday night (or both) and make it a fun family weekend.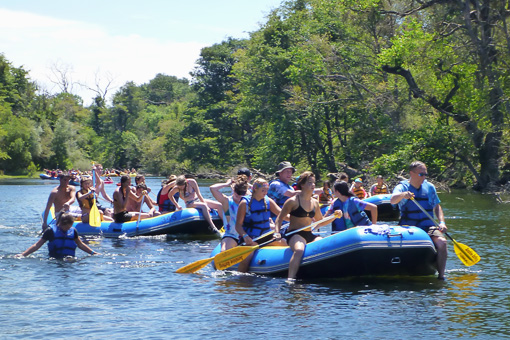 Details
Date: Saturday, July 1, 2017
Time: 9:00 am until around 3:00 pm

Cost: $30

How to sign up: Download and complete the Raft Trip Form and turn in with payment to "ACTIVITIES" folder by June 23
Print and sign separate waiver forms for each person who will be rafting
Contact: Chad Seps  408-887-3267 (call or text)

For more information: Sunshine Rafting
Location
Knights Ferry Recreation Area
18210 Sonora Rd, Oakdale, CA 95361
Lodging
If you'd like to stay over either Friday or Saturday night (or both), the team has traditionally stayed at the Motel 6 in Oakdale (825 East F Street). We do have a small block of rooms reserved, but these rooms go quickly, so call 209-847-8181 to make your reservations ASAP.
There are also other lodging options available. Directly across the street is the Holiday Inn Express (209-847-9121), and there is also a Best Western in town (209-845-2500). Each family is responsible for making their own hotel reservations and payments.
General Info
There is a maximum of eight riders per raft; please plan ahead who will be on your boat.
Everyone must sign a release waiver for Sunshine Rafting. Minors will need a parent signature on a release form.
Meet at the Knights Ferry recreation area no later than 9:00 am.
You must park in the Sunshine Rafting designated area; look for the sign.
There will be a short safety presentation, and everyone will be fitted with a life jacket and oars.
We will stop halfway down the river for lunch, so make sure you bring a lunch packed in a medium-sized cooler.
Sunshine Rafting will provide bus transportation back to the parking lot.
This trip does often sell out, so turn in your form ASAP to reserve your spot!
What to bring
Signed waiver forms
Tennis shoes (not flip-flops — they will fall off!)
Sunscreen
Hat
Leash for your sunglasses
Medium-sized cooler with drinks and lunch (must fit on your lap during bus ride back to parking lot)
Water weapons of your choice
Dry clothes and towels (leave in car)
What not to bring
Glass bottles
Styrofoam or oversize coolers
Water balloons
Expensive cameras or other electronics
Electronic key fobs
Anything that should not get wet!