OVERNIGHTER
The annual Overnighter is one of LPAC's most treasured traditions and a highlight of every swim team season. LPAC swimmers get to camp out in tents on the grass next to the Los Paseos pool and stay up late swimming, dancing, playing dodge ball, and just having fun with their friends.
LPAC Board members and their spouses stay the night and take shifts to be sure children are supervised at all times.
The Penguin Regatta Cardboard Boat Races also take place during the Overnighter, starting at 6:00 pm. Hope to see you all there!
We do need parent volunteers to help out, especially with dinner, breakfast, and clean-up on Sunday morning. Please sign up online.
2017 Overnighter Photo Booth Photos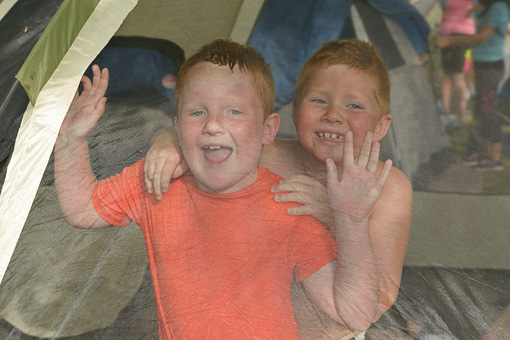 Details
Date: Saturday-Sunday, July 8-9
Time: Drop-off at 6:00 pm on Saturday; pick-up at 8:00 am Sunday morning
Location: Los Paseos Pool
Cost: $15 per person (make checks payable to LPAC)
Volunteers: Parent volunteers are needed to clean up on Sunday morning so that Board members can go home and get some sleep!
Contact: Cecie Boston (408) 910-5611
How to Sign Up
Download and print the Overnighter Form
Return completed form with payment to "OVERNIGHTER" folder (or turn in when you check in)
Notes
Children must be 7 or older to spend the night. Swimmers age 6 and under are welcome to attend but must be picked up by 10:00 pm Saturday night.
No tents can be set up before 6:00 pm on Saturday (including Los Paseos Association members)
Dinner, late-night snacks, and breakfast will be provided
What to bring: Tent, sleeping bag, pillow, flashlight, warm sweatshirt, change of clothes, swim suit, towel, pajamas, toothbrush, toothpaste, snacks, games
What not to bring: Anything valuable that might get lost!
Overnighter Rules
Swimmers can not leave after they are checked in, unless picked up by a parent or guardian.
No excessive horseplay, rough-housing, or destructive behavior will be tolerated.
The Association pool rules will be enforced at all times.
Swimmers will not be allowed to possess any medications. Any medications must be administered by a parent or guardian.
Parents/guardians must leave emergency contact numbers where they can be reached at any time during the overnight event.
No radios, boom boxes, or TV's can be brought to the overnight event (iPods and cell phones are okay).
No guests will be allowed.
Please do not send your child if he or she is ill.
Lawn chairs are reserved for the high school age group. This group sleeps on the chairs outside of tents.