CARDBOARD BOAT RACES
The Penguin Regatta Cardboard Boat Races take place during the Overnighter, starting at 6:00 pm. All penguins are encouraged to team up with their swim team friends to construct a sea-worthy vessel using only cardboard, duct tape, and paint.
Depending on the number of entries, there may be several heats to determine the overall champion. Unofficial prizes will also be awarded for the best boat theme and the most spectacular sink.
Parents are welcome to stay and cheer. Please be prepared to take home the remains of any boats that you bring. There is not enough room in the Los Paseos dumpster for all the soggy shipwrecks!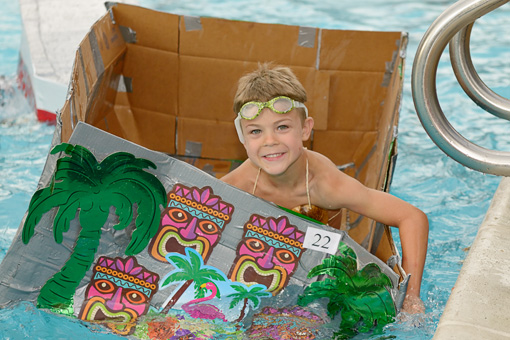 Details
Date: Saturday, July 8 (at the Overnighter)
Time: 6:00 pm
Location: Los Paseos Pool (7047 Via Ramada)
Cost: No charge
Contact: Adrienne Burke (408) 578-8097
Penguin Regatta Notes
Boats will be raced in the pool. Each heat will be 50 yards (two lengths of the pool). Depending on the number of entries, your boat may have to survive multiple heats.
Boats must be human-powered. There is no limit to the number of crew members on each boat.
Materials allowed:

Cardboard or paper (no plastic, waxed cardboard, or waterproof cardboard)
Duct tape, or any type of packaging tape
Adhesive products such as Liquid Nails for gluing the boat together
Water- or acrylic-based paint

Paddles are allowed but must also be made out of cardboard and duct tape.
Find helpful boat-building tips online.
Please take home the remains of your boat at the end of the races!